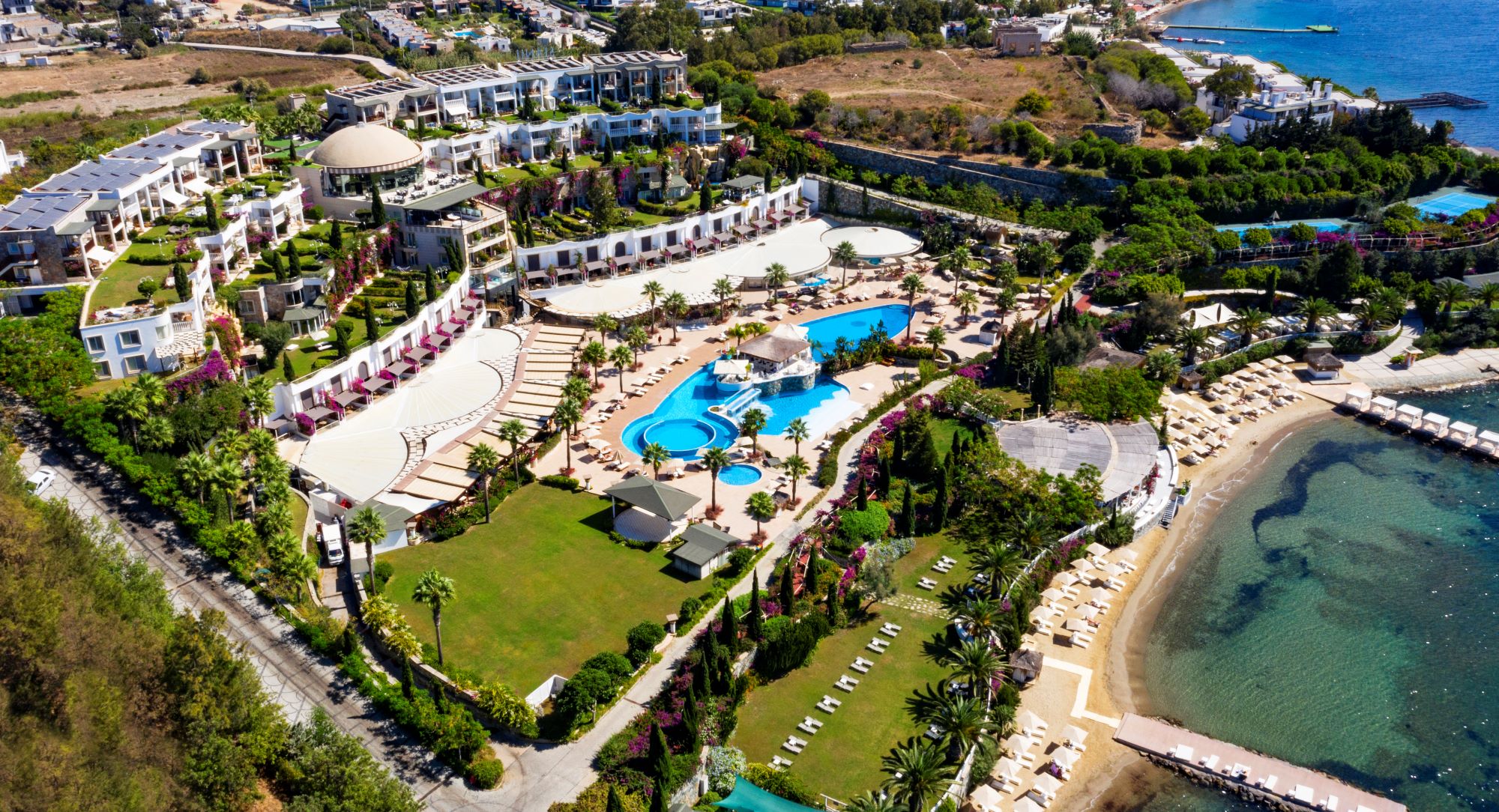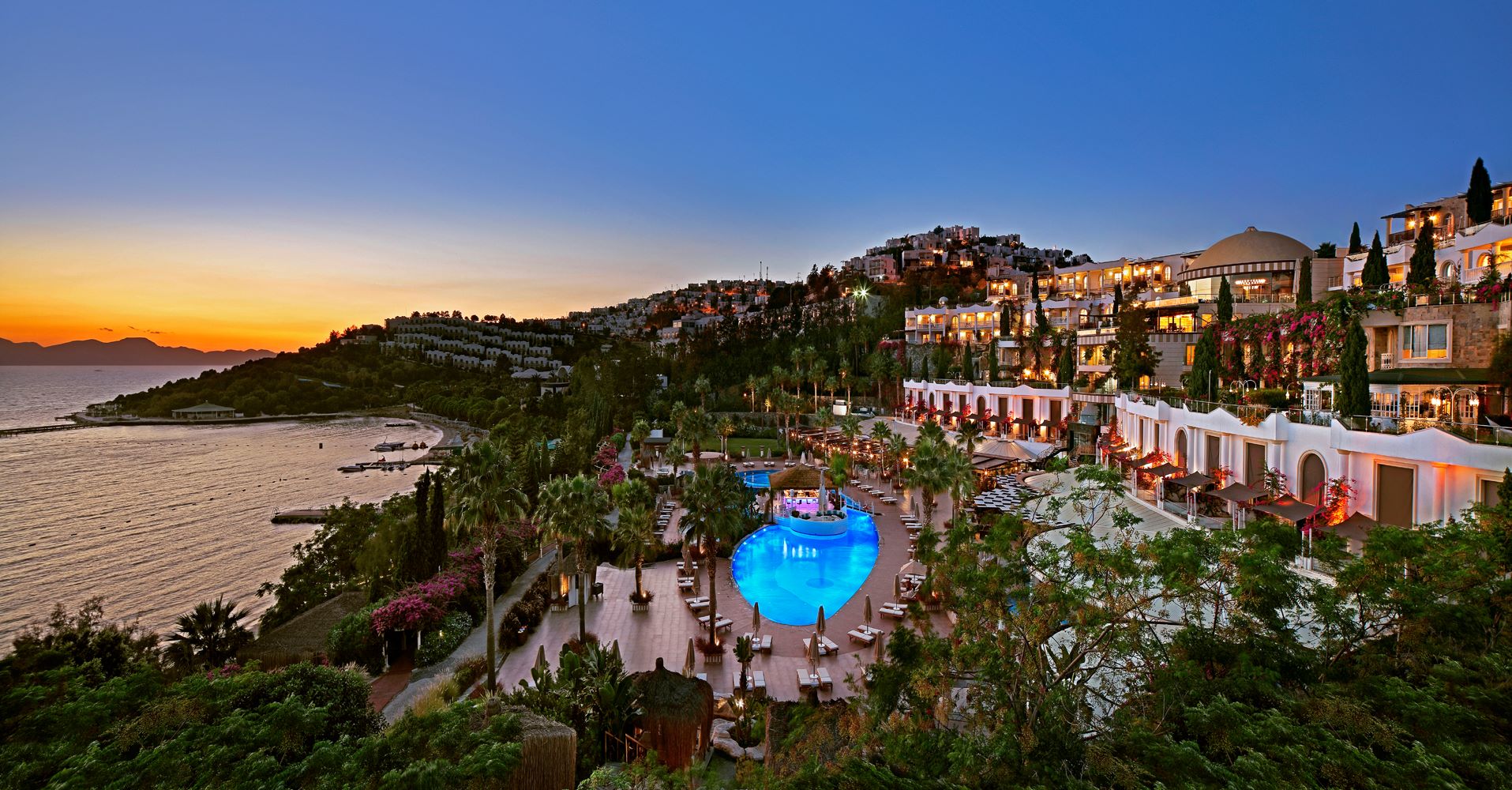 Sianji Hotel and Well-Being Resort
Sianji Hotel and Well-Being Resort
Immerse yourself in splendid Turkish hospitality at the Sianji Spa Hotel, with everything you could possibly need at your fingertips there is little reason to leave if you don't want to…
The Sianji is located in Turgutreis on the dreamy Bodrum Peninsula.  This luxury resort hotel has all the facilities and amenities you could possibly need to fuel a five star escape. Whether you are seeking a break to rejuvenate and renew or a leisure holiday en-familie you will be well looked after from the moment you arrive. The hotel and oasis like surrounds are less resort and more miniature kingdom. The ambience is refreshing with some guests choosing to enjoy a well-being escape and others coming for their summer or winter sun. There is a huge range of accommodation types available from comfortable and contemporary suites for two, to poolside villas for families or friends travelling together.
The garden environs are tranquil and serene. There are multi level terraces, bougainvillea clad gardens and blooming oleander overhead. Cascading waterfalls are interrupted by hidden cabanas, the perfect hideaways for a private massage treatment that is sure to cure and woe. And when it comes to relaxing poolside, the enormous swimming pool is the focal point and place to gather. Perched centre stage is a delightful pool bar where you can relax and enjoy a well-earned refreshing beverage before clocking in some more lengths or curling up with a good read. With so much room to roam in the garden and pool terraces you may find it tempting to stay here all day but it's worth meandering down to the hotel's private beach. Enjoy a private cabana hanging over the water's edge or kick back a on a comfy lounger on the sand and stare out at infinite shades of blue.
For the active there are a huge choice of complimentary activities available for you to enjoy throughout your stay such as sunrise and sunset yoga, trekking, aerobics and beach volleyball. For those who are eager to explore the coastline you will love the water sports centre where there is a variety of motorised and non-motorised toys to be appreciated.
Every guest is invited to use the Sanitas Spa throughout their stay. This steamy and watery playground features a selection of indoor pools, jacuzzies, relaxation spaces, saunas and hammams. It really is the most indulgent haven for you to switch off and have some invigorating treatments to rebalance the mind, body and spirit. Whether you are seeking a cleansing facial, restorative massage or a ritual to tone the skin. The spa is spectacular and we encourage guests to take a visit.
After all this activity, room service might be tempting but we highly recommend dining in one of the two restaurants in the hotel grounds. The main terrace restaurant is open for breakfast, lunch, afternoon tea and dinner, the emphasis here is very much on sourcing the finest local and seasonal ingredients to create a variety of Aegean,Turkish, Mediterranean and international dishes. Each of which is presented in a boutique buffet style, ideal when you are eager to explore new flavours you haven't tried before. For those who wish to dine beachside the Elani restaurant has a distinctly Greek feel. They are open for lunch and dinner and serve an excellent choice of freshly prepared small plates, ideal for sharing, as well as salads, grilled meat and fish, crispy Turkish Pides and local delicacies.
No matter your reason for escapism, the Sianji combines wonderful Turkish hospitality with five star amenities and we are sure  you will be looked after from the moment you arrive.
** The Sianji is a family-friendly boutique hotel**
Distance to Beach:
Directly on the beach!!
Distance to Town:
Turgutreis 3 Km (8 minute drive)
Distance to Airport:
1 hour 10 mins
Views:
Sea, Beach, Pool and Land
Car Hire:
Nice to have for those who wish to explore the wider region
The perfect choice whether you are a solo traveller, family or group of friends travelling together. This hotel works beautifully if you are seeking summer sun or looking for some much needed R&R!