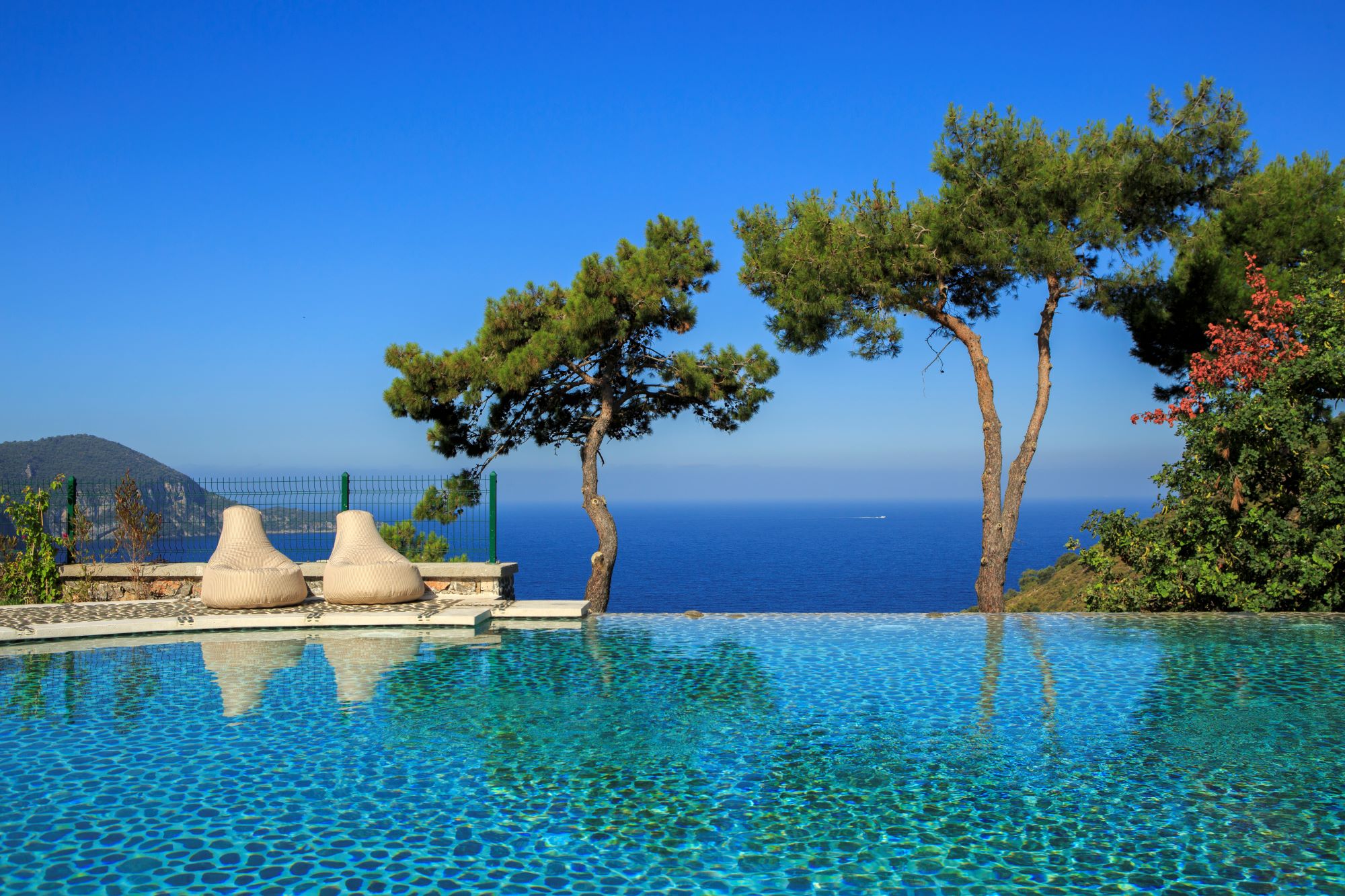 The Houses of Gökçe Gemile: Gökçe
The Houses of Gökçe Gemile: Gökçe
Gökçe, four-bedroom house, sleeps 8, the absolute jewel of the crown!
Situated centre stage, aloft a plateaux, Gökçe, has the most mesmerising location we have ever come across with sensational seascape views from every aspect. The house itself is quite simply a work of art, beautifully elegant whilst exuding a level of luxury and unparalleled comfort that is so difficult to find. The house has been built meticulously to blend with it's surrounds and embrace the splendour of nature, so much so that this entire house has been created around a Harnup Tree which grows admirably through its very heart. Architectural design and interiors have been paired by Malik, the genius behind the Gökçe Gemile project. Inspiration has been taken from local regions and culture with Gökçe being constructed from warm Alacati stone. All of the materials used are regional, handcrafted and adapted by local artisans to provide guests with a real sense of place and connection to the surrounding environs.
Gokce Gemile is a second to none, eco-luxe paradise without equal, offering a first class holiday experience. The Houses of Gokce Gemile are a work of art blending seamlessly with the environment while enjoying the magnificence of nature. Awe-inspiring architecture, art and a stunning bay life setting combine to provide guests with the most unusual and unrivalled of stays. And when it comes to service all you ever have to do is ask, an exquisite Turkish breakfast is served waterside on a complimentary basis throughout your stay- but thereafter if you wish to have a hotel style experience catered to your every whim- just let the Gokce Gemile team know and it will be modelled as per your requests.
Gökçe, is the third of the three houses, located furthest from the entrance but with the most enviable position of all. With sleek architecture and splashes of contemporary features, it is finished to an extremely high standard. While Gökçe boasts a fiercely contemporary flare the house still epitomises the philosophy that is The Houses of Gökce Gemile and striking features include exposed beams, walls of glass and steal.
Built on two levels, Gökçe has inconceivable uninterrupted sea views over the Bay of Gökçe Gemile which become more expansive the higher up the villa you climb or when you wander into the garden and take in the enormous estate size which frames the bay view. From stylish fixtures and fittings, thick walls of glass and monsoon-style showers the property is extremely well put together and is a testament to Malik's keen eye for detail. The large, cool interiors have a neutral stone palette interspersed with charcoal greys and flashes of yellow. The open plan kitchen and living area is simply huge, with floor to ceiling windows opening onto the terraces and gardens which are made for dining en plein air.  The gigantic free-form lake pool is surrounded by, loungers and parasols and flanked on two sides by raised köşk's with pergolas overhead that practically provide some respite from the intense glare. There is also a glorious jacuzzi and a free standing bath tub carved from a single stone in the shallows.
Each of the two master bedrooms covers the entire mezzanine floor boasting glorious views across the entire bay. The king-size beds are the centre piece of the room and the style is seriously chic and minimal. A large mansion-style balcony leads off the mezzanine hallway and is shared between the master bedrooms,an ideal spot to watch the sunset while enjoying a refreshing aperitivo. The galleried upstairs balcony also peers down over the open plan living space and is a wonderful place to view the harnup tree and boat structure which clings impressively to the wall. Downstairs is a third bedroom which is ideal for children and friends sharing, adjacent is a stylish shower and W/C. The fourth bedroom is a pod-style pool house which is located in the garden. This suite has a kitchenette, double bedroom and en-suite a sanctuary for teenagers who enjoy independence whilst still being in sight.
Having secured the most luxurious property in our portfolio there really is very little reason to leave the perimeter of the property- but we really do insist that you venture down to the private bays and coves below. A funicular system is concealed just a short stroll from the entrance of Gökçe. Glide through the pine forest and descend to a hidden paradise below.
Undeveloped and unspoiled this enormous bay of astonishing crystal clear water is yours to enjoy. The region is heavily protected, scenes include rugged undulating mountains, unfettered green terrain, remote coves and picturesque geological formations as well as an abundance of wildlife and sealife.
A spectacular celebration of Turkish cuisine is demonstrated every morning in the complimentary breakfast feast that is served by the water's edge. Each of the three houses have their own dedicated dining area under the shade of a pergola.  Respectively located by the water's edge and sensitively spaced to provide privacy. The Beach Club House Kitchen is open throughout the day serving an array of light meals and snacks to fuel your bay life activities.
An array of non motorised toys have been provided to allow you the opportunity to make the most of this remarkable untouched bay. Facilities include; SUP, kayaks and fishing and snorkelling equipment. For those guests who are interested in an array of motorised toys- simply enquire with the concierge team who will gladly arrange for these to be delivered at a supplement. And for those who want for little more than to linger by the water's edge, there are plenty of comfy day beds and parasols to ensure your every need has been catered for. Beyond the central sandy beach and bathing platforms you can also wander beyond to remote coves and bays or swim a little if you are seeking complete solitude.
Packed with original flare and oozing style, this unique house is made for embracing the sunsets and socialising with your best people.
Number of Rooms:
(4-bed house): 2 master doubles and 1 twin bedroom in main house + 'pod-style' double guesthouse in gardens, 4 shower/WCs (3 en suite)
Number of Guests:
1-8 Guests
Distance to Beach:
Gokce Gemile Private Bays and Islands accessed via the funicular system
Distance to Town:
10 minute drive to Kayakoy village
Distance to Airport:
90 minutes to Dalaman Airport
Views:
Garden, pool and mountain views
Car Hire:
Nice to have for those who wish to explore the wider region
Neither villa nor hotel- a stunning eco-luxe project providing an utterly unrivalled holiday experience. A luxurious glass fronted house blending effortlessly with the surrounding nature and with unrivalled seascape vistas!